"Run what you brung" is well-meaning advice, often passed down from open-minded elder car enthusiasts to young gearheads embarrassed about their shitboxes. "All that matters is that you're having a good time," they'll say, in the same way a mother says "that's nice, honey" as a four-year-old describes their day at Head Start.

In a lot of circumstances, I am the shitbox owner, and the car in question is my 2012 Mitsubishi i-MiEV. Except this time, the well-meaning but patronizing elder car enthusiast is wrong. A weekend at Summit Point Motorsports Park in West Virginia revealed to me that the i-MiEV is really a secret enthusiast gem.
Now, before you tie me to a pyre and float me down Niagra Falls, quoting reviews from auto journalists who drove the i-MiEV back in the 2010s, just know that I've read, watched, and consumed them all. I know that the car's range was piss-poor when new, and only gets worse with age. A decade of battery degradation has seen my car's officially-rated 62 miles turn to a barely-usable 45, and it continues to drop. The low-output 67-horsepower motor can only muster a 16-second 0-60 time. At speeds above 55 MPH, it swills electrons like a Ford F-150 Lightning, at least from what I can see on the car's extremely basic gauge cluster. Objectively, the i-MiEV is a bad car.
Yet over the year-long adventure of buying, fixing, and driving this shitty city car, I've fallen in love.
G/O Media may get a commission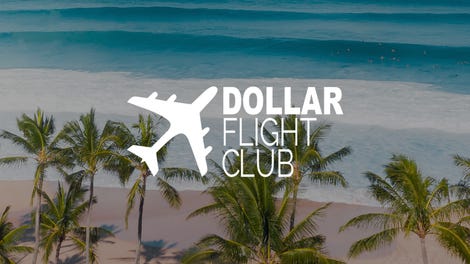 97% off
Dollar Flight Club Premium Plus (Lifetime Subscription)
I had been toying with the idea of dipping my toe in the cheap-EV arena for a while. At my under-$4,000 price point, the only options tended to be used-up Nissan Leafs. The Leaf is fine, but I wanted something a bit more interesting. Facebook Marketplace latched on to my penchant for weird, kind of bad cars, and recommended to me a 2012 Mitsubishi i-MiEV in need of a little TLC, for not that much money.

The tiny EV had somehow ended up in Flint, Michigan, in the hands of an older gentleman who inherited it from a family member that I gathered was too old to drive now. It had a broken shifter cable and some odd driving issues, but otherwise was functional. Given the car's limited range, it was a pariah that sat on Marketplace for weeks, dropping from $5,500 to $3,500. At that price, I knew I had to have it. I bought the car, got it towed to Ohio, and fixed the shifter cable in a lengthy repair that involved removing the enormous traction battery.
The novelty of buying and driving what's probably the worst car of the past decade wore off after I got my i-MiEV operating at full health. And yet, I found myself making up reasons to drive the thing. I've packed on 4,500 miles in a year — no mean feat for a car that effectively can't escape a 25-mile radius from my house. I'd often drive the car within an inch of its range, upset that I'd have to find a charging station, because I wanted to keep driving. Some would say I had fallen victim to motor-vehicle Stockholm syndrome, but honest to god, I loved driving the thing. It was good, dammit — way different from the "glorified golf cart" critique that flew out of the mouths of friends who got wind that I had willingly purchased a Mitsubishi i-MiEV.
The golf cart critique wasn't fair. I've driven modern golf carts and neighborhood electric vehicles (NEVs). In college, I leased a posh(-ish) apartment in the suburbs that offered access to a Polaris GEM e6. The GEM was a front-wheel-drive, vaguely car-shaped device that didn't even feel comfortable going its top speed of 25 MPH. It rode like a brick, handled like a thrice-reassembled flat-pack bookcase, and had a frame made of what looked to be Home Depot steel. The GEM is not a real car.
But the i-MiEV is. And the more I drove it, the more I noticed that, dynamically, the i-MiEV has some spice to it. Why the hell are the brakes so good? Why is the steering so communicative? Certainly, this thing punches well above its "glorified golf cart" weight.
I was having a good time caning the i-MIEV around city streets, tackling on-ramps and off-ramps with aplomb, but there's only so much you can responsibly ascertain about a car's handling on city streets or the rare curvy road in Central Ohio. I'm a newbie to the automotive journalism sphere; I couldn't shake what my fellow industry folks had said about the car in years past, how their observations didn't square up with my experience. Was I just hallucinating in real time? Had I turned into that most pathetic figure, the delusional shitbox owner? I needed a litmus test to see if my hunch was right. I needed to get the i-MiEV on a track.
I got my chance to track the i-MiEV at the Out Motorsports 2022 October Trackcross, in Winchester, Virginia, a five-and-a-half-hour drive from my doorstep. The i-MiEV obviously couldn't do that drive, but a Chevy Silverado High Country and a U-Haul trailer solved that. Summit Point Motorsports Park has plenty of Level 1 and Level 2 EV chargers, so all I had to do was get the i-MiEV there and make sure it could pass tech. My litmus test was coming together.
Out Motorsports Rallycross events are very beginner-friendly, usually consisting of a Top Gear-style challenge. The organizer picks a theme and sets a price cap; this year's challenge was "family haulers." Participants bought and raced $1,500 examples of minivans, station wagons, big sedans — basically anything with two rows of seats meant to haul parents and kids. If you're not doing the challenge, you can race essentially whatever car you like, though body-on-frame trucks are banned and convertibles are generally not welcome for safety reasons.

The tracks — in this case, Jefferson and Shenandoah Circuits — are chopped up into time-trial vignettes, so as not to overstress the plethora of questionable $1,500 beaters that show up at Out Motorsports events, and probably to make sure the gaggle of 70-plus drivers all get enough time to hoon. The i-MiEV's $3,500 used price was far too rich for the challenge, so I was put in the Street RWD category.
On paper, I had probably the worst car in Street RWD. There were turbo Miatas and BRZs with fat tires, purpose-built sporty cars modified for even better performance. They had sophisticated independent suspension setups and real horsepower.

I had a 67-horse electric car, based on a Kei car that offered a Hello Kitty edition in its home market. I had 145-width tires up front and 175s at the back, low-rolling-resistance Dunlop Ensave eco rubber that was probably at the end of its life. Instead of a sophisticated multi-link setup, I had a solid rear axle in the form of a bent metal tube.
But the i-MiEV shocked me on its very first run. I wasn't dead last. When compared to the other classes, the i-MiEV was turning respectable times, especially considering its lack of performance. I was within four seconds of the turbo NC Miata, bested a competitor in a 2016 Toyota Corolla, and nipped at the heels of an Infiniti J30. Among performance cars, perhaps that's a low bar, but those are real vehicles that can drive more than 25 miles from their homes. I found the i-MiEV's performance damn impressive.
It wasn't just me. "We read your times, and honestly, we thought we had accidentally fucked up," the timing sheriff told me. "But then, you turned an even faster lap time. And then you did it again."

Dynamically, the i-MiEV was incredibly predictable. The car is very slow — there's no getting around that — and the front tires are narrow by design to induce understeer, to combat a Corvair-esque tendency toward pendulum snap oversteer. The traction control can never fully be turned off, and the vehicle's ECU panics when there's a speed differential between the rear driven wheels, furiously limiting power. This is especially problematic when exiting corners and one of the rear wheels is a little light, if not in the air.
The i-MiEV's roughly 500-pound battery is mounted low, so it corners very flat for a tall, narrow car. The steering is communicative, and while the car understeers, it comes on gently and progressively.
The faster I drove the i-MiEV, the more I focused on improving my lap times. Our slice of the Shenandoah circuit was tight, biased toward handling rather than outright speed. The i-MiEV could tackle chicanes with relative unflappability, as the soft yet well-resolved suspension managed the vehicle's weight transfer without any bobbing, bouncing, jittering, or unpredictability.

I had become completely enamored with this so-called bad car. Here it was, at a track event, participating if not damn near competing, when everything in its DNA says it was never built for anything remotely like this. To me, driving the i-MiEV was like watching those TikTok videos of people sprinting in stiletto heels; you'll start out laughing at the absurdity, then realize those kids are moving with the speed of a D1 running back.
The next day, the group moved over to the Jefferson circuit. Jefferson is biased toward power, and well, the i-MiEV's 81-MPH top speed and 16-second 0-60 time showed themselves in full force. The little Mitsubishi just couldn't generate the speed to return respectable lap times like it had the day before. But it still managed not to be the slowest car on the track. I didn't care — in my mind, I had already tested and proved my hypothesis. The i-MiEV is a good car.

Now it was time to proselytize. On the second and final day, I focused on giving rides around the track, converting skeptics to the church of i-MiEV. Passengers would come back from laps with me beaming. "This thing whips!" said one competitor who rode shotgun as I threw the i-MiEV around Jefferson Circuit. I chatted with other competitors, brainstorming out loud. "What if Mitsubishi tried again? What if the i-MiEV had 90 horsepower, stiffer springs, and sporty summer tires? What if we like, grafted a motor from a Lucid Air in the back?" At least to me, it inspired conversations about what could have been, what was, and what is, for both the i-MiEV and Mitsubishi as a whole.
The i-MiEV is a remnant from arguably a golden age at Mitsubishi — the era of the final generation Lancer Evolution X. Before the i-MiEV underwent its EV conversion, it was a well-respected gas-powered Kei car, winning accolades in Japan for good design. In a weird way, the i-MiEV shows that, at one point, someone cared about making a tiny, affordable family vehicle into a good-driving car. It's still a very compromised product, but inside this vehicle there's a glimpse of an engineering team that valued driving engagement.
The i-MiEV might still be one of the worst cars sold in the past 15 years, but that doesn't take away its merits. It doesn't mean you can't enjoy it for what it is. Sometimes a bad car can be a joke we all laugh with, not at. Ain't no shame in loving the car you brought.