Elon Musk is headed to Mexico soon to speak with the president about Tesla building a production plant in the country. Rumors of Tesla's big move south have been ongoing for months, but Musk hasn't confirmed where, exactly, Tesla plans to build its latest Gigafactory — or whether it will be built in Mexico at all.

President Andrés Manuel López Obrador, or AMLO, is scheduled to meet with Elon Musk to discuss Tesla's future, according to Bloomberg. And, of course, AMLO will pitch his own ideas regarding where Tesla should settle in Mexico.
For now, the front-runners in the race for the coveted Tesla Mexico plant are the northern state of Nuevo León and the State of Mexico proper, where AMLO's new airport is trying to attract foreign companies in order to build a major trade zone in the heart of the country. Nuevo León already hosts many of Tesla's suppliers, and has even granted Tesla its own dedicated lane on the U.S.-Mexico border. Both of these locations would make sense.
But we can add the southern state of Michoacán to the list. Not because the state boasts a major port catering to the auto industry, but because the state governor has made a compelling argument through avocados. It seems that Michoacán's governor, Alfredo Ramírez Bedolla, knows the way to anybody's heart is through the stomach:
G/O Media may get a commission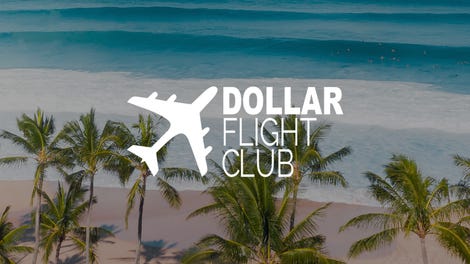 97% off
Dollar Flight Club Premium Plus (Lifetime Subscription)
Avocados are the most famous and lucrative export of the state, but the governor goes on to say that, "Michoacán is the best option for Tesla and other global brands looking to invest and build on Mexican soil."
Now that politicians in Mexico are vying for Musk's attention — and getting weirder with their efforts to woo Tesla — the governor of Michoacán convinced some intern to mock up an EV with absolutely zero sidewall and little resemblance to any model that Tesla makes. Still, I admire the unhinged effort as well as the fact that the governor believes Tesla would ever build a two-door vehicle.
At the very least, it's more creative than efforts from Nuevo León's governor, who publicly gifted a Tesla to his wife for Valentine's Day (link in Spanish.) But the Mexican president might take a different tack than his fellow politicians by threatening to withhold permits if Tesla decides to build in the North. It's a risky move on AMLO's part, but not altogether unfounded.
As Bloomberg reports, water has been scarce in northern states and that could impact the industry:
President Andres Manuel Lopez Obrador weighed in on the issue this week and didn't have anything positive to say about Tesla settling in Nuevo Leon. The state near the US border is already filled with industry and lacks water, said AMLO, as the president is known. Instead, he highlighted abundant resources in the country's southeast and the appeal of moving close to a new airport in the State of Mexico that's one of his major infrastructure projects.

On Friday, he reinforced the message by saying the company would not receive permits if there was not enough water in northern Mexico.

"If there is no water, no, there would be no possibilities," AMLO said. "The permits are simply not issued for that, I mean it is not feasible."

[...]

"There are places in the country where there isn't enough water and we have to save it for domestic consumption."
As if that weren't enough, the Mexican military has slowly been establishing a stronger presence in the North as the country struggles to contain cartel violence, which has been historically concentrated in Mexico's border states.
The president makes no mention of cartel violence in his remarks, but the concern is always valid. A kind of background condition that many in the country have accepted. The point is that AMLO will try to convince Musk that building a plant away from the Mexican capital could be a risk.
AMLO is from the South, however, so his pitch is somewhat biased. And one of the major promises during his presidential campaign was that he'd help bring more money to southern Mexico via development.

In the end all this competition could put off Musk and Tesla from actually making any major investments, as Bloomberg notes. While that is a possibility, it seems unlikely. A sibling rivalry between Mexican states is hardly enough to shoo Musk away when so many of Tesla's competitors run production plants in the country.
Chinese automakers are also gaining ground there, and most likely playing the long game with EV production in the West — attempting to gain a foothold via Latin America. So, it looks like Tesla is destined to remain or grow in Mexico in some form or another. It's just a matter of when, where and who has the best avocados in the country.