One of the things that happened under the gubernatorial administration in New York of one Andrew Cuomo was the construction of a new bridge to replace the Tappan Zee Bridge, because the old Tappan Zee Bridge was decaying and crap. The new bridge was built parallel to the old bridge, and like the old one connects Westchester and Rockland counties, just north of New York City. That new bridge is technically called the Governor Mario M. Cuomo Bridge, because Andrew Cuomo wanted to do a nice thing for his father, a former three-term governor of New York.
The only problem is that everyone still calls the new bridge the Tappan Zee, because the Cuomo name is extremely bad vibes these days and Tappan Zee is fun to say. Also, Tappan Zee is a name that has stood the test of time, in the same way that, for me, it will always be the 59th Street Bridge and not the Ed Koch Queensboro Bridge, and it will always be the Triborough Bridge and not the Robert F. Kennedy Bridge, and it will always be the Brooklyn-Battery Tunnel and not the Hugh L. Carey Tunnel. Hell, if I had my druthers we'd still call the John F. Kennedy International Airport Idlewild. Stop naming things after people! We've been over this.
Anyway, WPIX reported this week that James Skoufis, a Democratic state senator in New York who seems like a bright guy, has a bill to again officially name the bridge that connects Westchester and Rockland counties the Tappan Zee Bridge.
James Skoufis, who's sponsored a bill to change the name, said many people who live in the Hudson Valley still call the bridge the Tappan Zee.

NY Inspector General, Thruway Authority respond to accusations of safety issues on Mario M. Cuomo Bridge

"This is not about rejecting Mario Cuomo as a former governor, and finding some bridge or a highway or tunnel to dedicate to him and his service, this is about restoring a name that many people feel was stolen," he said.
The New York Post also filled in a little of the history here, which is entirely unsurprising.
Disgraced former Gov. Andrew Cuomo strong-armed legislators into greenlighting the "Mario" moniker as part of a late-night legislative backroom deal to approve a catch-all omnibus bill in 2017, as the finishing touches were being put on the nearly $4 billion structure.

In exchange for the tribute to Cuomo's dad, Republicans got a hodgepodge of concessions — including greater retirement benefits for uniformed first responders injured on the job, a tax break for lower Manhattan real estate, a three-year extension of county sales taxes for both upstate and New York City, up to $50 million in flood assistance for Lake Ontario, and a loosening of land restrictions in part of Adirondack Park.
G/O Media may get a commission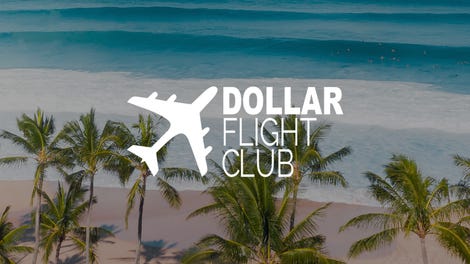 97% off
Dollar Flight Club Premium Plus (Lifetime Subscription)
Skoufis and his allies are apparently hopeful that the bill may pass this year, because he is a Democrat and Democrats control the New York state legislature and governor's office, after a Republican tried and failed last year with a similar bill. Tappan Zee is also a classy homage to the Tappan, who lived in the area when the Dutch arrived in the 17th century — zee being the Dutch for sea.
It should also be said that, officially, the old Tappan Zee was the Governor Malcolm Wilson Tappan Zee Bridge, so changed in 1994 to honor a different former governor of New York that even fewer people remember. Except I'm not sure anyone has ever referred to the bridge as such, ever. The bridge is simply the Tappan Zee and it will always be.