Tor had an i3 that he was really fond of, but the car was totaled in an accident. He liked the quirkiness of the BMW EV but didn't care for the difficult service. He would like to replace it with something unique. What car should he buy?
(Welcome back to What Car Should You Buy? Where we give real people real advice about buying cars. Do you want us to help you find a car? Submit your story on our form.)
Here is the scenario.
In June of 2019 I bought my first electric car, a BMW i3 Rex in protonic blue. I loved the quirkiness of the car and the acceleration always left a smile on my face. Although the all electric range was only around 120 miles, I regularly took the car on multi-state road trips (sometimes assisted by the little range extending scooter in the back). I thought I would have this car until the wheels fell off.

Unfortunately in June of this year (three years after purchasing my beloved "Rex") I was in a bad accident on the way to the Nashville airport. I hit standing water on the interstate and the narrow wheels of the i3 lost all traction at highway speeds. My little car pirouetted across two lanes of heavy traffic and into a concrete divider, first hitting the front passenger side and then the back passenger side. Long story short - my quirky, electric companion left on a flatbed truck and was totaled out due to frame damage. I have had an emotional connection with all of my cars, but this one hits hard.

In some ways I am fortunate that this happened now, with the hot market for electric cars I am getting a very high payout value for it, but unfortunately I still have to buy another car to replace Rex and am stuck looking at those same high prices. I love quirky cars and I would prefer to get another electric - honestly another i3 might be the answer, but our local BMW dealers are so bad I would prefer something a little easier to repair. Really needing some new suggestions…

Another EV would be great but I am open to going back to a gas car if it was something different and had good fuel economy. I am open to pretty much anything from coupes, to wagons, JDM imports to other weird things. My budget is up to $30,000. I need it to seat 4 comfortably, would prefer to avoid German stuff, and no Nissan Leafs
Quick Facts:
Budget: up to $30,000
Location: Knoxville, TN
Daily Driver: Yes
Wants: Funky, low fuel costs, seating for four
Doesn't want: A Nissan Leaf
Expert 1: Tom McParland - Did You Say JDM Wagon?
G/O Media may get a commission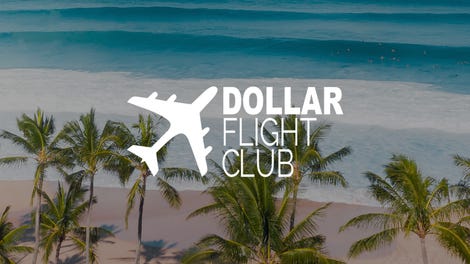 97% off
Dollar Flight Club Premium Plus (Lifetime Subscription)
That's too bad about your i3. The little EV can be a polarizing car but for the folks that really dig them, they are something special. Right now the EV market is limited in that sub $30,000 range, and since you don't want a Leaf, I would imagine a Chevy Bolt is probably not super appealing.
However, you are pretty open-minded and you mentioned two attributes that Jalops love to hear "JDM" and "wagon." Well, Tor… there is a car for you. Our friend Gary Duncan has this 1997 Mitsubishi Legnum VR-4 wagon. Under the hood is a twin-turbo V6 mated to a manual transmission. So you will need to learn to shift with your left hand, but your daily commute will be like playing Gran Turismo. At almost $24,000 you may think it's a tad pricey for a twenty-five-year-old car, but I guarantee when it comes to something unique, you will be the only one in town with a right-hand-drive, twin-turbo, Mitsu-wagon.
Expert 2: Collin Woodard - Swedish Weirdness
Tom's right, Tor. There really isn't much out there that's interesting and electric for under $30,000. Maybe the Fiat 500e counts, but having owned one in the past, I know for a fact it doesn't seat four people comfortably. So I say we look at something gas-powered that's going to be comfortable and unique even if it's not nearly as fuel-efficient as your BMW i3. If we keep it well below your budget, hopefully, more frequent fill-up won't sting as badly.
After a little searching, I think I've found the perfect one: this 2011 Saab 9-5. It's not terribly far from where you are, and it looks like it's in great condition. Plus, just look at it. It's weird and unique, but the design still looks fantastic. Some people may not even know it's a used car. At least until they get inside and notice the lack of an infotainment screen. It's still new enough to have Bluetooth, though, so navigation and music are just a phone connection away.
It's also priced quite affordably (at least in the current used car market) at a little under $12,000. That leaves you $18,000 to spend on gas, a motorcycle, a trip to Sweden, or anything else your heart desires.
Expert TK: Owen Bellwood - America's Hot Hatch
Tor, I'm sorry to hear about the demise of Rex! And I'm also sorry to report that, like Tom and Collin, I've struggled to come up with an interesting EV to replace it with. Sadly, the excellent Honda E hasn't made it over here quite yet.
But, if you can't have an EV, you can at least keep driving 'round in an excellent hatchback. And boy oh boy have I found a nice little hatch that'll help you stand out from the crowd. It's still gas-powered and isn't even a hybrid as a lot of them are quite dull at this price. But it is all-American, so fits nicely with your "avoid the German stuff" requirements.
Tor, what you need is the last great hot hatchback America built, the Dodge Omni GHLS. Specifically, this Shelby-powered one built in the 1980s. It'll suit you down to the ground as it has room for four, a dash of cargo space in the back and a 2.2-liter engine that'll ensure you stand out on the streets of Tennessee. And maybe, after a few years enjoying the final days of internal combustion, you could even convert this into an EV later down the line. Just a bit of forward planning for you.
Expert 4: Andy Kalmowitz - Trois Portes
Tor, my friend, we salute Rex and all he had given up to keep you safe. But, it's time to move on to bigger and better things! I give you the Hyundai Veloster N. It checks every box you're looking for. It's under $30,000. It's nearish to where you live, it's a great daily, it's funky, fuel won't be an issue, it's got seating for four (provided one person doesn't mind climbing a bit, and most importantly, it is not a Nissan Leaf.

You'll be the envy of your neighborhood with your cool blue paint, three doors and peppy-ass drivetrain. With 275 horsepower and 260 lb-ft of torque all routed through a six speed manual transmission on tap, you'll never run out of fun. It's also got another seven years on its warranty, since the example I've chosen for you is a relatively-new 2020 model with fewer than 8,000 miles on the clock.
Maybe this isn't a forever car for you, since you are in on EVs, but you're right. Prices are wild right now, and who needs to be paying those kinds of premiums? Not you, Tor. That's for sure. All of that being said, I would still probably buy the Saab that Collin suggested, because it's just the coolest goddamn thing in the world.
Expert 5: Lawrence Hodge - Stylish, Electric, and Unique
I'm sorry that happened to you and your i3. Luckily for you, you can get back to that electric driving uniqueness with something not quite as quirky, but way more rare and stylish. How about a Cadillac ELR?
Under that sexy exterior (that's also aging pretty well) lies the whole powertrain setup from the Chevy Volt, which is one of the reasons this thing failed. Just over 3,000 were made over the entirety of its production run so you won't see a lot of these things on the road, either. And while it does have just 37 miles of EV driving range, that should be more than enough for around town stints. Plus you have an I4 engine backing you up. That gives you a total driving range of about 350 miles. And while it looks like it would be a two seater coupe you have room for four people and a few small bags in the 10.5 cubic foot trunk.
While finding one is tough because so few were made, the good thing is that that rarity doesn't come with a high price. I found one within your budget at a Chevy dealer in Farifax, VA. Many ELR's were bought by the well off, who didn't drive them much. That means fairly low miles for the years. The example I found is a 2014 with just under 59,000 on the clock for $23,489. A steal I'd take advantage of if I were you.