The Coast Guard rescued a mariner from 20-foot seas off the coast of Oregon Friday morning right before the 35-foot yacht capsized. Then things got extremely weird.
Coast Guard Station Cape Disappointment receive a mayday call Friday morning for a vessel in distress in the incredibly dangerous waters known as the Columbia Bar. The Guard sent out a 47-foot rescue boat and contacted a local helicopter rescue training school that was running drills near by to swoop in and save mariner Jericho Labonte. The yacht capsized in the rough seas during the rescue, but all involved made it out alive.
After plucking him from the deadly waters however, officials began to realize they had a serial troublemaker on their hands, with charges of mischief in two countries. It all started at the house used to film the cult-classic 1985-film The Goonies. From the New York Times:
The rescued mariner, Jericho Labonte, had stolen the boat from a nearby marina in West Mooring Basin in Astoria, according to the police. And a few days before that, he left a dead fish on the steps of the house made famous by the 1985 film "The Goonies," which follows the fantastical adventures of a group of children following an old treasure map.

Mr. Labonte filmed himself dropping the fish off at the house, calling out the movie's signature line of "Hey, you guys!" and posted it to Facebook.

Mr. Labonte was arrested Friday night in Astoria on charges of theft, endangering another person, unauthorized use of a vehicle and criminal mischief, the Astoria police said in a statement. But Mr. Labonte, who is originally from British Columbia, was also wanted by Canadian authorities on charges of mischief, criminal harassment and failure to comply, Chief Stacy Kelly of the Astoria Police Department told The New York Times on Sunday.

It wasn't until later that officials were alerted that the yacht in question was stolen from nearby marina. By then, Labonte had already left the Astoria-area hospital following his rescue. Police arrested him at a warming center later that day.
Labonte didn't just spend his illegal vacation in the U.S. doing crimes and pranking classic movie filming locations. He also got a little fishing in. Very little fishing, it turns out. Just enough fish to prank the Goonies house, it turns out:
Mr. Keightley originally welcomed the off-season trip. But the man repeatedly asked Mr. Keightley to take him out to 3,000 feet, about 30 miles offshore where bottom fishing is impossible. He requested a captain's hat and insisted on joining the commercial crabbing fleet, which were far offshore. When the man hooked a 27-inch lingcod, he was ready to go back to shore, which also surprised Mr. Keightley.

"The number of times I've gotten one fish and went back in — that was a new record," Mr. Keightley said in an interview on Sunday.
G/O Media may get a commission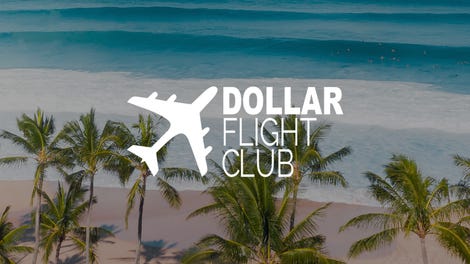 97% off
Dollar Flight Club Premium Plus (Lifetime Subscription)
It's all fun and games until U.S. immigration officials get a hold of you. While his fishing pranks were alarming, but harmless, trying to cross the Columbia Bar in a stolen vessel is a good way to get yourself or your rescuers killed. The feds are holding Labonte in custody while the entire mess gets sorted out.