Carvana lost a lot of money, Audi might build a factory in America, and Elon Musk. All that and more in The Morning Shift for February 24, 2023.

1st Gear: Carvana
Carvana, which is on Struggle Street — more like Complete Desperation Street — said Thursday that it lost $806 million net in the last three months of 2022. Via Automotive News, all of these numbers are bad:
The online used-vehicle retailer reported revenue of $2.8 billion in the fourth quarter, down 24 percent compared with the same period a year earlier. For all of 2022, Carvana reported revenue of $13.6 billion, up 6.2 percent from 2021.

The Tempe, Ariz., company sold 86,977 vehicles in the fourth quarter of 2022, down 23 percent. The profit it made per vehicle retailed tumbled 51 percent to $2,219, down $2,347 from the fourth-quarter 2021 figure.

For the full year, Carvana sold 412,296 vehicles, down 3.0 percent from 2021. Its yearly per-vehicle profit was $3,022, down $1,515 from 2021.

"From a short-term perspective, it was clearly a very difficult year," Carvana CEO Ernie Garcia and CFO Mark Jenkins wrote in a letter to shareholders. "After eight consecutive years of annual improvement, it was the first year we stepped back on the key metrics of retail units sold, total GPU, net income margin and adjusted EBITDA margin."
The turnaround plan for Carvana includes decreasing costs and inventory, though not, for now, layoffs, according to Auto News. I don't know, a car vending machine always seemed to me like a dubious idea. I prefer the old way of going to a random used-car lot and talking to a guy wearing a cheap suit, who says that this Saturn Ion really is a smashing deal.
2nd Gear: Audi
Audi, which is owned by Volkswagen, does not have a factory producing cars in the United States, choosing to import instead. But that may change, according to Reuters, in light of the Inflation Reduction Act, which has caused more than a few automakers to rethink their production plans thanks to new incentives. Audi's CEO Markus Duesmann said the automaker might start building cars in the States, either by itself or with VW. VW has a plant in Chattanooga, Tennessee, which makes ID.4s. From Reuters:
Chief Executive Markus Duesmann said that a decision had not yet been made but that the IRA made it far more attractive to build electric vehicles (EVs) in the United States. Duesmann made the comments in an interview with Frankfurter Allgemeine Zeitung, which were later confirmed by the company.


Asked whether Audi would build a plant itself or do so together with other Volkswagen brands, Duesmann said: "Both are possible. But the probability that we do it within the group is high."

Carmakers have in recent years moved to reduce export and imports across major markets like the United States, China and Europe and instead localise production and supply chains to reduce transport and logistics costs.
G/O Media may get a commission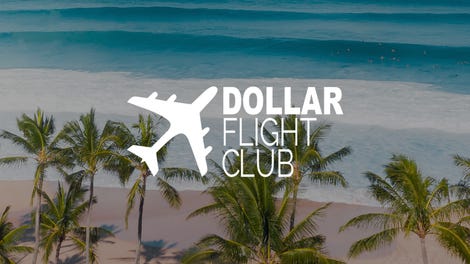 97% off
Dollar Flight Club Premium Plus (Lifetime Subscription)
Audi has a factory in Mexico which makes Q5s, so this would not be totally new ground for Audi in North America. It's also a little strange that Audi doesn't build cars in the U.S. already, given what its competitors are doing: BMW has a gargantuan plant in South Carolina, and Mercedes operates a plant in Alabama. They all come here eventually, it seems, especially now thanks to the IRA.
3rd Gear: Scout
In possibly related news — it's never clear to me which parts of the Volkswagen empire are talking to each other and which are just sort of off on their own — Reuters reported Friday that VW will build a plant in the U.S. to make Scouts. That would be VW's new EV off-roader brand inspired by the International Harvester SUV. Or at least, using the legendary and long-dead name. From Reuters:
Volkswagen Group (VOWG_p.DE) will build its own production plant in the United States for its new Scout brand rather than collaborating with a partner, industry publication Automobilwoche reported on Friday, citing company sources.

[...]

Automobilwoche had reported in November that the carmaker was in talks with Foxconn (2317.TW), which has expanded into building electric vehicles (EVs) for auto brands, and Magna International subsidiary Magna Steyr (MG.TO) about building a joint plant.

Building its own plant was the least likely option, the publication reported at the time, also citing company sources.

Volkswagen is expanding its existing U.S. plant in Chattanooga, Tennessee, to produce the ID. Buzz. However, the Scout brand will build off-road electric pick-up trucks and SUVs that require a new platform and the Chattanooga plant does not have enough space to do it all, a source told Reuters last May.
A VW spokesperson told Reuters that plans are still up in the air but that production is still on track for 2026.
4th Gear: Elon Musk
Tesla CEO Elon Musk was found not liable earlier this month in a securities fraud trial in San Francisco, over a tweet he posted in 2018 which said that he had "funding secured" to take Tesla private. The whole ordeal was extremely dumb, as things that originate on Twitter tend to be, but Bloomberg says that the Securities and Exchange Commission is still talking about it.
I fear that this is all deeply convoluted:
Musk has battled with the SEC over his social media posts since he tweeted in 2018 that funding was secured to take Tesla private. That prompted the regulator to sue, claiming Musk and Tesla had misled shareholders. Both settled with the SEC, each paying $20 million and agreeing that Musk's Tesla-related tweets would be reviewed by a lawyer — often referred to as a Twitter sitter — before he posts them.

The judge handling the SEC case has refused to let Musk out of the deal, prompting the Tesla CEO to appeal to the 2nd US Circuit Court of Appeals.

Musk's lawyer argued to the appeals court that the San Francisco verdict confirms that Musk's tweets didn't violate securities laws. Investors had sued Musk over the "funding secured" tweet, claiming he defrauded them. A federal jury took just two hours to clear him, sending shares of the electric car maker surging.

That verdict is irrelevant, the SEC said in response Thursday. Musk forfeited his chance to test the SEC's claims at trial when he twice voluntarily agreed to settle, according to the filing.

"Even if the verdict were somehow relevant, Musk reads too much into it," the SEC said. The settlement "was not conditioned upon the outcome of the private litigation," lawyers for the agency added. "The Commission had no role in that case."

Musk's lawyer, Alex Spiro, didn't immediately respond to an email sent late Thursday seeking comment on the SEC filing.
One of these days the words "Twitter sitter" will mean absolutely nothing to me and I can't wait.
5th Gear: Hyundai
Some Hyundai suppliers in Alabama have a problem with child labor, which isn't great. Reuters said Friday Hyundai will be divesting from one of its suppliers accused of using child labor.
In a Feb. 24 letter to shareholders from Hyundai Chief Executive Jaehoon Chang, the company said recent audits at 29 of its direct suppliers across Alabama made it confident they are "now in full compliance with underage labor laws."

[...]

One of the plants where children worked, SMART Alabama LLC in rural Luverne, Alabama, is a direct Hyundai subsidiary. According to Hyundai's financial statements from last year, the automaker controls a 72% stake in SMART.

Chang wrote that Hyundai was "in the process of divesting its ownership interest in SMART" but it would ensure "that the economically important jobs in the Luverne, Alabama community are preserved."

Hyundai's letter did not say when the transaction would be completed or identify a buyer or the form a divestiture would take. Since the early 2000s, the metal stamping plant has made chassis parts for hundreds of thousands of Hyundai vehicles per year.
Reverse: Happy Birthday Alain Prost!
Prost is one of the greatest Formula 1 drivers ever, and don't let anyone tell you otherwise. Formula 1 has an annoying policy of not letting their videos embed, but here is their top ten Prost vid on YouTube.
Neutral: How Are You?
I'm excited for day two of F1 testing in Bahrain, as it should be a cracking year in Formula 1. I feel like no one is talking about Ferrari as a contender? Ferrari is a contender!