The seller of today's Nice Price or No Dice Cadillac Eldorado claims the car is so soft that it "rides like a couch down the road." Let's see if its price drives a comparatively hard bargain.
Have you noticed that there seems to be a new electric car introduction just about every other week? Not just cars, but entire new companies too. These new cars inevitably promise great range, forward-thinking accommodations, and super speedy charge times. Naturally, those claims make them sound like the greatest thing since sliced bread (invented on July 6, 1928).
With so many newer, better EVs hitting the market, those that are already here become demonstrably less attractive. That was the case with the 2017 Chevy Bolt LT we looked at yesterday. Only a little over five years old, and not in bad shape, its $18,000 asking price didn't make much financial sense seeing that, with tax breaks, a new, fully-warrantied Bolt could be had for just a few thousand more. Many of you did that math, and found the Bolt didn't add up. The result? A 62 percent No Dice loss.
A primary reason to move to an electric car is to cut carbon emissions and realize a cleaner, happier planet. If, however, you'd like to go out with a bang — perhaps with a gas hog bender, if you will — you could do far worse than to give OPEC its pound of flesh in this 1972 Cadillac Eldorado convertible.
G/O Media may get a commission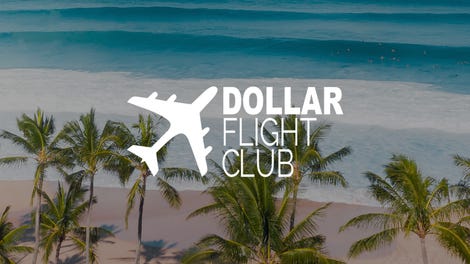 97% off
Dollar Flight Club Premium Plus (Lifetime Subscription)
Fully eighteen-and-a-half-feet long and weighing in at nearly two-and-a-half tons, this ultimate luxury personal convertible is all about extravagance, excess, and conspicuous consumption. And it only gets about nine miles per gallon of gas as a result.
Cadillac first used the Eldorado name on a special one-off convertible launched in 1953. Used as a tour de force example of GM's styling leadership, the model sat atop the Cadillac range. Way atop. It was priced accordingly and as a result sold in extremely small numbers.
That special model would last only that one year, but the Eldorado name would continue on as a staple in Cadillac's portfolio on a multitude of models for decades to come. The biggest change for the car came in 1967 when the Eldorado moved to a FWD platform shared with the Oldsmobile Toronado. Unlike the earlier cars, which shared many styling cues with other Cadillac models, the initial FWD Eldorado stylistically stepped out on its own.
By the time this '72 hit the streets, the futuristic styling had been toned down, and a convertible model (unavailable from '67 through '70) was added to the line.
Everything about this car is big: the body size, the interior space (two bench seats worth), and even the engine. That engines is 500 cubic inches and was the biggest Cadillac produced at the time. Still exclusive to the Eldorado, this model year, it made 235 (net) horsepower, down from 365 (gross) the year prior owing to emissions-driven retuning. Sitting beneath that, and connected via a massive drop chain is a Turbo-HydraMatic 425 three-speed automatic. This would be the only drivetrain available in this model.
According to the ad, this Contessa Pewter Metallic over a cream interior and blue pinpoint vinyl top convertible sports a mere 98,000 miles on the ticker, and is claimed to run and drive excellently.
Visually, it seems to be in pretty nice shape too. The only major blemishes of note, in fact, are a small ding on the driver's door and what looks to be a scrape below the turning lamp on the same side that. Whitewall tires and full wheel covers add a bit of old-school luxury, as do the spats in the back.
The interior appears to be leather on the seats with blue and white vinyl everywhere else. This being Cadillac's top-of-the-line car, it's filled with luxurious features and conveniences that today you'd likely find on a Kia Rio. Back then, however, things like intermittent wipers and power door locks were what separated the wheat from the chaff.
Per the ad, the A/C works as does everything else. A slew of new parts (including axles) has gone into the car's upkeep. The ad (being on the terrible Facebook Marketplace) doesn't list the title status, so let's just assume that it's clean and unencumbered. Taken all together, that should make this Caddy a turnkey classic.
But at a $15,900 asking, does it make fiscal sense to turn that key? What do you say? Is this throwback convertible worth throwing down that kind of cash? Or, for that much, is this an Eldorado that, like its namesake mythical city, should remain undiscovered?
You decide!
Facebook Marketplace out of Arlington Heights, Illinois, or go here if the ad disappears.
H/T to Peter McCarthy for the hookup!
Help me out with NPOND. Hit me up at remslie@kinja.com and send me a fixed-price tip. Remember to include your Kinja handle.