Originally conceived as an ugly duckling coupe, Triumph's last-ever TR turned into a semi-beautiful swan once the roof was chopped off. Today's Nice Price or Crack Pipe TR8 adds balls to the beauty with a Rover V8. Let's see if the price is worth the show and the go.
Pontiac was once a car company that used the marketing tagline "We Build Excitement" to sell its cars. When new, yesterday's 2009 Pontiac G6 GXP was one of the company's last-ditch efforts to fulfill that promise. It proved to be too little, too late, however, as not even a big grille or even bigger wing could keep Pontiac from its date with GM's executioner. At $4,600, our GXP faired better than its dead maker, though. That price tag earned the coupe some kudos in the comments and a narrow but laudable 53 percent Nice Price win.
As we discussed yesterday, one of the GXP's problems was that it was a coupe, offered at a time when coupes were falling out of fashion. One of the best ways to make a coupe fashionable is by chopping its head off. Turn a coupe into a convertible and, as they say, the world is your oyster. That's because convertibles and oysters tend to be better when opened. Today's 1980 Triumph TR8 is a convertible. It also has a history behind it that involves just such a coupe beheading.
The V8 TR8 is a derivation of the four-cylinder TR7, and that car started life solely as a closed coupe. This was the first coupe in Triumph's TR line and was initially only offered as such because of the rumored threat that the U.S. would impose rollover standards that would effectively ban convertibles. Once that rumor was quashed, Triumph smartly added a convertible to the TR7 line. It also cut a deal with British Leyland bunkmate Rover to fit the car with that company's V8 engine, thus creating the numerically appropriate in both lineage and cylinder count TR8. Both 7 and 8 carried the same unique wedge bodywork. That's enhanced by pop-up headlamps, another first in the TR line.

G/O Media may get a commission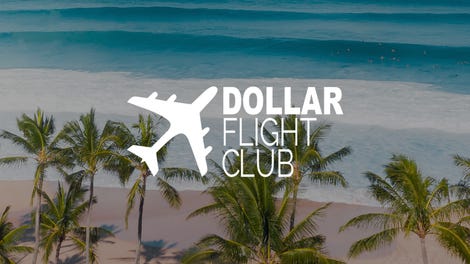 97% off
Dollar Flight Club Premium Plus (Lifetime Subscription)
This cylinder-doubling wasn't a bodge job, either, as, from the outset, the TR7 had been designed to carry the V8. In fact, the company's stillborn Lynx project — a Capri-fighting 2+2 hatchback — was based on a stretched TR8 platform. That intriguing model never made it to production, but the convertible TR8 did, as did a handful of TR8 coupes.
Being a 1980 California emissions model, this one offers Bosch L-Jetronic fuel injection on its 3.5-liter Rover (nee, Buick) all-alloy V8. That bumped up the horsepower over the carbureted 49 State edition by five horses to 137. Things got even better in 1981 when all TR8s in the States got fuel injection and 148 horsepower. Keep in mind that the V8 in the contemporary Ford Mustang (which is always a good baseline) only made 118 horsepower at this time.
According to the ad, this TR8 comes with 80K on the clock and a number of noteworthy updates, including a new top, starter, radiator, and brake servo. Painted in a metallic approximation of British Racing Green, it looks pretty good in the pictures. The seller does note some imperfections in the paint, but none is worth kicking the car to the curb for.
The interior features vinyl upholstery with wonderful plaid cloth inserts on the seats and door cards. The carpet is worn in places, owing to age and cheapness, but a good bit of that is masked by the floor mats. The dash is surprisingly uncracked and complete. Both the three-spoke steering wheel and the tall shifter for the five-speed are factory and look to be in good nick.
The seller claims the car to be rust-free and says the engine "starts easily, idles smoothly, and runs flawlessly." On the downside, the A/C compressor is shot, the clock only works twice a day, and there's an oil leak that may need attention.
Mitigating that somewhat, the tires are fairly fresh, having only about 2,000 miles on them. That's good since 13-inchers like these are getting harder to find these days.
Truth be told, TR8s aren't all that common either. This one is seemingly in great shape which makes it one to seriously consider. Does $14,900 feel like a fair price for the car as it's presented (warts and all) in the ad? Or, would paying that price make buying this TR far less of a triumph?
You decide!

Facebook Marketplace out of Hillsboro, Oregon, or go here if the ad disappears.
H/T to glemon for the hookup!
Help me out with NPOND. Hit me up at remslie@kinja.com and send me a fixed-price tip. Remember to include your Kinja handle.