There are some good things about life in America: gas is cheap, potatoes taste better and you'll struggle to go a day without seeing a Ford Mustang. But then, it also has its drawbacks: cross-country trains are basically unusable, there's no easy access to a Greggs and everyone seems happy to walk down the street and pay to do their laundry. Weird.

But one of the biggest flaws in America is its reluctance to properly invest in cycling infrastructure across its cities. This is a fact that becomes painfully apparent when you look across the Atlantic to The Netherlands.
This tiny country, which has an economy roughly 25 times smaller than the U.S., has just opened the doors to a new $65 million underground bike store. It's an incredible site that has space to park 7,000 bikes right outside Amsterdam's central station. And, perhaps the most interesting thing about the new site, it's almost entirely underwater.
According to Bloomberg, the new bike store in the Dutch capital has been in the works for four years. This rather satisfying time lapse shows that its construction involved draining a section of Amsterdam's famous canal, before assembling the garage and then re-flooding the area. It's all mighty impressive. Bloomberg reports:
"Before construction began, engineers had to dam the entries to the basin from Amsterdam Harbor and pump the sealed-off area dry. Layers of sand were dredged before the basin's edges were reinforced with concrete walls.

"Then the garage's floor was laid and planted with a labyrinth of columns, shipped to the site by barge, to support the roof before water could refill the basin, completely inundating the submerged parking facility."
G/O Media may get a commission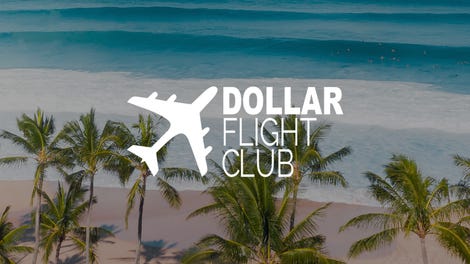 97% off
Dollar Flight Club Premium Plus (Lifetime Subscription)
While all that was going on, access routes to and from the station remained open, meaning Dutch travelers and commuters could carry on with their journeys as normal.
The garage is part of a mammoth infrastructure project to modernize the station in the Dutch capital. As well as the bike garage, there is also a new metro station, which quickly whisks travelers to the city's outskirts, and a tram stop nearby can take you all around Amsterdam. Bloomberg reports:
"The garage, which opens Wednesday, is part of a wider revamp of the grand but extremely busy space in front of Amsterdam Centraal, the city's main train station. Referred to locally as De Entree (because it is where rail passengers — and before them, ship passengers — enter the city), this sweeping space abutting the city's harbor has been overhauled since 2017.

"Above ground, space has been taken from cars and given to pedestrians and bikes, while some roads have been cleared away to allow more room for the site's defining feature: water."
It means you can easily travel or cycle 'round town and travel to the station with ample space for parking. What's more, a second underwater, 4,000 bike garage will open to the public next month.
But biking in The Netherlands isn't just big in Amsterdam. It's big all across the country. And that means that this new flagship site isn't even the biggest biking garage in the country, surprisingly.
That title instead goes to the city of Utrecht, which has a single cycle garage capable of storing 12,000 bikes. For anyone running a comparison, this one garage has almost half as many bicycle parking spaces as the whole of New York City.
What's more, spaces in the garage are basically free to use! Cyclists are given their first day free of charge, and then subsequent days are charged at €1.35, which is about $1.50 today.